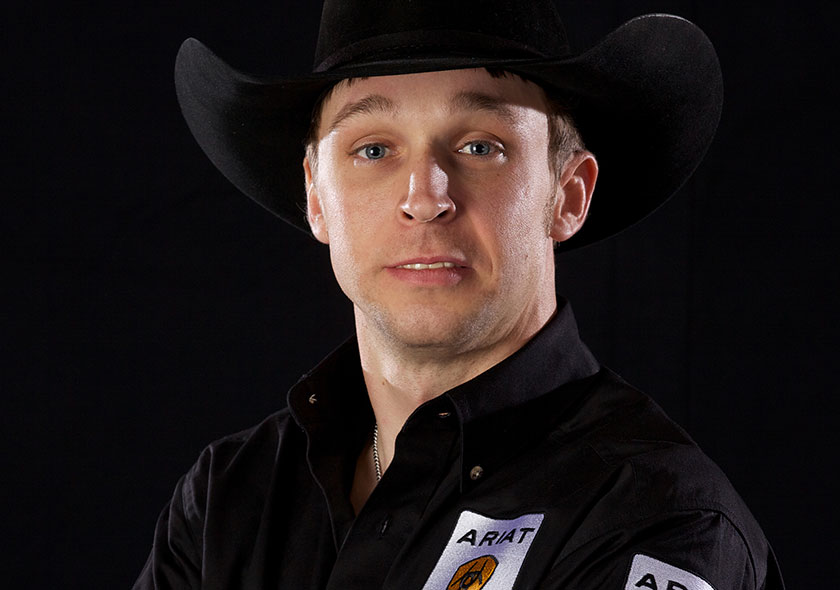 Justin Koon
Event in which you compete: PBR Bull Rider
Hometown: Grapevine, AR, USA
Number of years riding: 18 years total, 7 years professional
Career accomplishments to date:
• Five-time PRCA Southeastern Circuit qualifier, three-time PRCA Southeastern Circuit Champion
• Served as PRCA Southeastern Circuit Bull Riding Director from 2009-2011.
• Four-time PRCA Dodge National Circuit Finals Rodeo qualifier
• Tied record for most PBR Touring Pro Division Events won in a single season during rookie season in PBR
• Qualified for and placed in the average at first PBR World Finals in Las Vegas, NV in 2011
How you got started in your event: My father entered me in a local fair rodeo in the steer riding event when I was ten. It started as a joke, after I had made a comment something to the effect of, "I can do that!" I started riding in junior rodeos, then moved on to high school rodeos, then to amateur events, on to PRCA rodeos and PBR bull ridings.
Favorite Ariat product: I love all my Ariat jeans, but I wear the M3 Athletic style jeans the most. The relaxed fit makes them comfortable to travel in, work around the pasture in, and great to ride in. I am also a huge fan of my black Latigo Belly Caiman boots. I really haven't met an Ariat product I haven't liked. I've been riding better than ever since I switched to all-Ariat apparel. Coincidence or not, I don't plan on changing anytime soon!
Proudest career moment: Qualifying for and placing in the average at my first PBR World Finals last year as a "rookie" to the PBR.
Tell us about your first bull ride: My first qualified bull ride was on a junior bull in a practice pen when I was ten years old. He bucked a little bit and then ran all the way around the arena. When they told me to "get off" I continued to ride him and yelled back "I CAN'T!"
You ride because: Well, I was too small to play football, too short to play basketball, and too slow to run track! Seriously though, after all these years, at this point it's really all I know. I've been riding for so long now, it's who I am. I am able to make a decent living and support my family doing what I love, so why do anything else?! I get to see parts of the world I would have never seen otherwise. I've been to nearly all 50 states and Australia, and met so many outstanding people. This is truly the coolest job in the world.
If you weren't a professional bull rider, you would be a: Professional Hog Hunter! I am actually a member of the Carpenters Union, so I would probably be driving nails. I have plans to go to college one of these days, and am interested in getting a degree in agriculture.
Favorite mentor or idol growing up: Norman Curry
Favorite place to travel: South Florida
Name one fun fact that people don't know about you: 1) I was baptized last year on Easter Sunday in a water trough in the middle of a rodeo arena in my hometown during a cowboy church service. 2) When my wife and I met, she was a certified lifeguard and gave swimming lessons to kids as young as 3 years old. After all these years, and countless lessons, I still cannot swim to save my life.
Favorite way to unwind outside the barn: Hog hunting with my Catahoula dogs.
Good luck charm: I guess you could say my faith. I don't necessarily believe in or depend on luck—everything is a blessing.