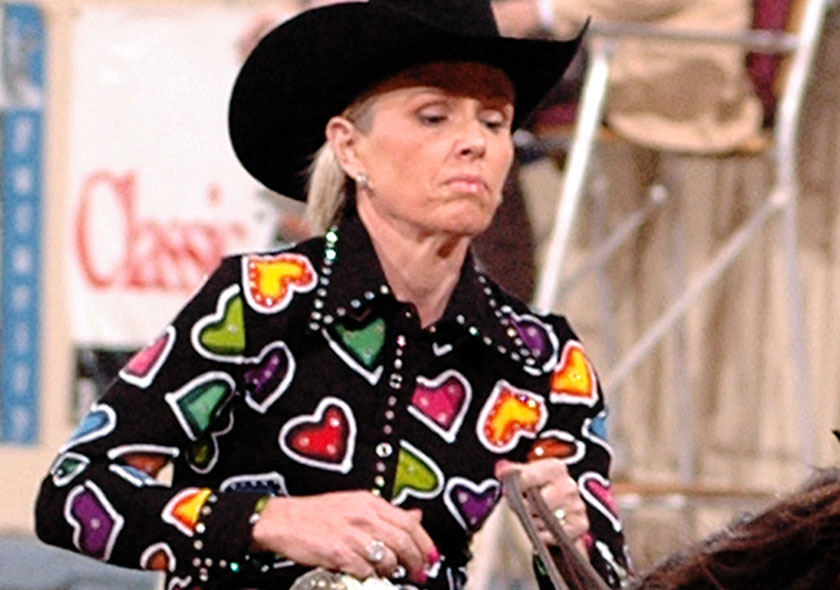 Carol Metcalf
Event in which you compete: I compete in Reining, working cowhorse, and still train some Western Riding horses. I have retired from the Western Pleasure for the most part.
Hometown: Santa Maria, CA, USA. Lived there for 21 years.
Number of years riding: I have been riding since I was 4yrs old.
Career accomplishments to date:
• Five-time AQHA World Champion
• Six-time AQHA Reserve World Champion in three different events.
• 2000 AQHA Horsewoman of the Year
• Two-time NRCHA Reserve World Champion
• Won both the Intermediate Open and Limited Open at the NRHA Futurity
• My favorite – I was the Miss California Rodeo, Salinas in 1977
How you got started in your event: I started riding when I was four. A neighbor took my sister and me for a riding lesson. My sister took just one, I never quit. I started out showing in Pleasure, Trail, and Horsemanship. When I was 21 I went to work for Steve Metcalf and acquired a taste for Western Riding, Reining, and Cowhorse. Steve, of course, eventually became my husband.
Favorite Ariat Product: My favorite product is Ariat's Women's squared toed boots. Amazing comfort and great looks
Proudest career moment: My proudest career moment is probably being named the AQHA Horsewomen of the Year. To me it was recognition for a lifetime of accomplishments.
Tell us about your first horse: My first horse was a black Quarter Horse mare with a fiery attitude. She taught me a lot about winning and losing.
You ride because: I ride because I truly love it. Even if I weren't competing, I would still ride.
If you weren't a professional rider, you would be a: When I was in school I studied to be a butcher – good salary, weekends off. Today I just don't think about being anything other than a professional horse trainer. But you never know; the world is full of possibilities!
Favorite mentor or idol growing up: Lots of people I respected growing up on the West Coast. I think I most wanted to be Cynthia Cantleberry. She is by far one of the greatest horsewomen I have ever known. And she's still a lady!!!!
Favorite place to travel: My favorite place to travel has yet to be discovered.
Favorite way to unwind outside the barn: A bowl of popcorn and a Gluten-free beer. LOL!