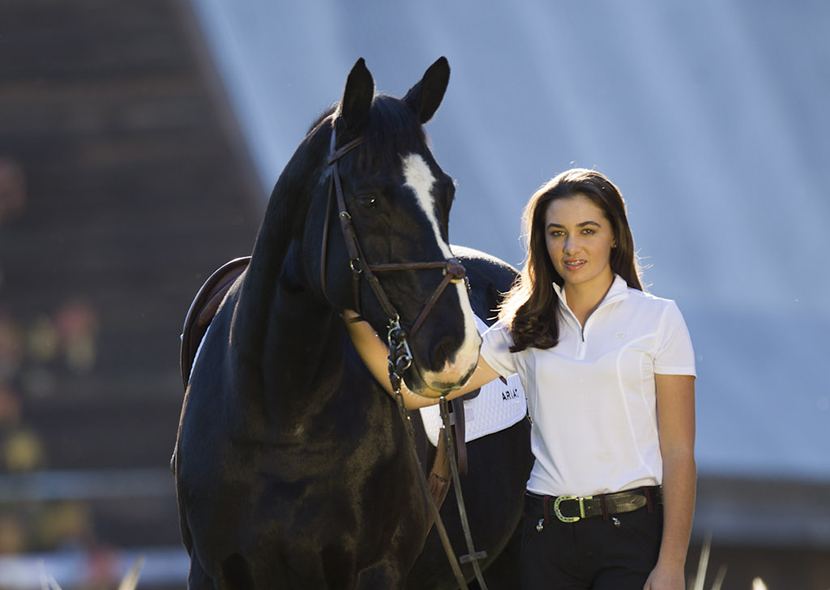 Sophie Simpson
Event in which you compete: Show Jumping
Hometown: Thousand Oaks, CA
Number of years riding: 12 Years
Career accomplishments to date:
• Winning Onondarka Medal Finals in 2011

• Being in the top 23 out of 159 in Maclay Finals 2012
How you got started in your event: I was born into it and knew nothing else!
Favorite Ariat product: Triumph LS Shirt
Proudest career moment: Jumping my first Grand Prix at 14 years old
Tell us about your first horse: My first horse was off the slaughter truck when I was just 3. He was an appaloosa who was the sweetest, most caring horse. He was the best horse I could have had as my first horse.
You ride because: I have no idea what I would do without riding because it is something I've done my whole life and wouldn't picture myself doing anything different.
If you weren't a professional rider, you would be a: My dream is still to be a rancher. But if I wasn't in the horse world at all I would be doing something with animals. If I ever get rich, I would love to open an animal shelter.
Favorite mentor or idol growing up: : My parents were and are still my mentor and idol.
Favorite place to travel: probably Europe!
Name one fun fact that people don't know about you:I have a serious foot-phobia
Favorite way to unwind outside the barn: I love to watch movies and go to bed early!
Good luck charm: My friend and I got matching rings that are our good luck charms.