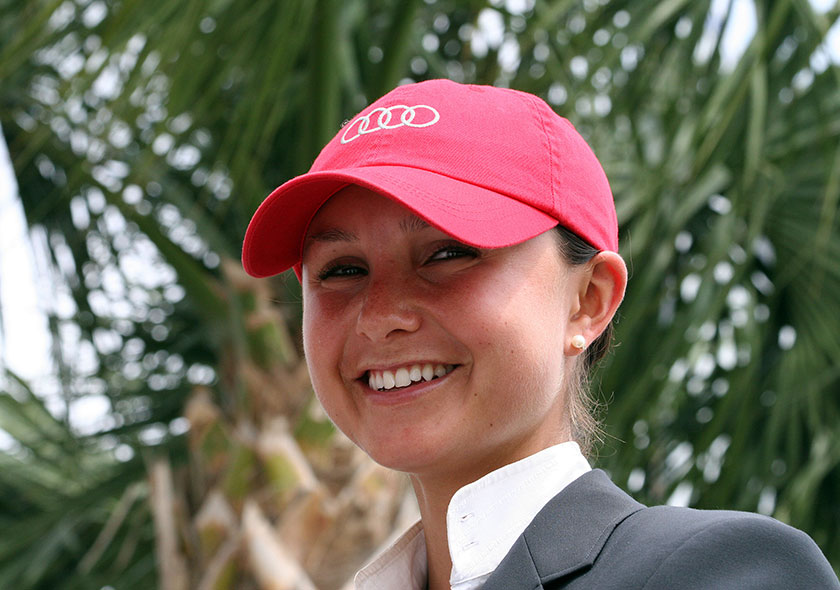 Georgina Bloomberg
Event in which you compete: Grand Prix Show Jumper
Hometown: New York, NY and Wellington, FL, USA.
Number of years riding: 23 Years
Career accomplishments to date:
• Best child rider winner at every major horse show as a junior rider.

• Winner of the USET Talent Derby 2001

• North American Young Rider Championships Gold medal winner 2002 (team) and 2003 (individual)

• Maxine Beard Award winner 2004

• Member of 10 Nations Cup teams, including the final Samsung Super League team in Barcelona 2008 and the first US winning team in 2005

• Winner of the 100k Metropolitan Cup 2004

• Winner of five WEF challenge cups

• Winner of the 75k Empire State Grand Prix 2010.
How you got started in your event: I rode only hunters until 2001, but when I started in the jumpers I knew it was the right fit for me. I needed a new challenge and I just fell in love with the thrill of it.
Favorite Ariat product: The Brittany breeches. They are the best fitting breeches I have ever tried on. I actually enjoy wearing them, they are comfy and fashionable.
Proudest career moment: Being a member of the Zone 2 Gold Medal winning team at the NAYRC in 2002. I grew up idolizing the riders on that team, and dreamed of being a member of it. Ralph Caristo was a real mentor for me. I've known him basically since I was born, and I wanted to ride on his team and make him proud. When we won gold that day I had a good feeling that I would never accomplish something in this sport that meant as much to me as that one did, and I have yet to prove myself wrong.
Tell us about your first horse: I took lessons on a pony called Frosty Lad at Coker Farm. I was scared to canter, but once I did it I never wanted to trot again. I got my own pony when I was about six, and got to start showing. She was a palomino pony called Upsy Daisy. She was an angel to me and I still remember the moment I learned that she had passed away.
You ride because: I like to compete. I thrive off of competition, and the thrill of winning is what makes me get up and go to the barn in the morning.
If you weren't a professional rider, you would be a: A designer of some sort. I love art and design and would probably design clothing and jewelry. I could also see myself doing something in sports, like a sportscaster.
Favorite mentor or idol growing up: Heather Caristo was my idol as a kid. When I started watching the Grand Prixs I loved watching Leslie Howard and Mclain Ward. I started riding at Mclain's mom's farm, so I was very close to him as a kid. He always looked out for me and treated me like a little sister, so I have loved watching his career take off more than others. It means more when you know a rider outside of the ring, not just in it.
Favorite place to travel: Bermuda. I used to spend my summers there as a kid and now we have a house there. It's so quiet and beautiful. It's the only place I can ever really relax.
Name one fun fact that people don't know about you: I almost quit riding in 2002. I took a few months off and went away, and when I came back I knew I had to keep going.
Favorite way to unwind outside the barn: Playing pool. I shoot pool to relieve stress and to get my mind off of things.
Good luck charm: I try not to believe in them. I think we should rely on hard work and preparation, not on luck. But there are a few things that I try to wear when I show. A belt that all the members of the team wore during the NAYRC in 2002, and a gold necklace with a little gold medal on it that my mother gave me before I won the NAYRC in 2003. She said 'You've worked so hard that in my eyes you have already won."