Details
http://www.ariat.com/HRTG_III_LACE_W_FOO.html
Style #
HRTG_III_LACE_W_FOO
Heritage III Lace
Additional Information
Versatile performance regardless of level or discipline. The boot's 4LR technology secures and cradles the foot, while the premium full-grain uppers and elastic gore panels enhance the fit for optimal performance in and out of the saddle. Classic, traditional styling indicates a rider who has arrived.
Promotions
Special Offer
Free Standard Ground Shipping On All Domestic Orders $99 or More
Technology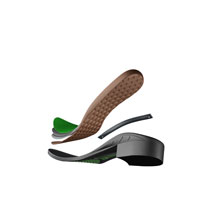 4LR Technology
Outstanding Everyday Support and Comfort: Ariat's® entry-level technology, Four Layer Rebound (4LR™), cushions and stabilizes the foot for all-day comfort and performance.
Four-layer footbed provides superior comfort.
Lightweight shank stabilizes to add support.
Works with a variety of use-specific outsoles.
Heritage III Lace
is rated out of
5
by
58
.
Rated

5

out of

5
by
Kari
from
Paddock Boots
I LOVE MY ARIAT BOOTS!!!! I have worked and ridden in my previous boots for ten years and recently realized that I just couldn't keep my favoritepairof boots alive any longerafter they had finally split and Iwasdumping dirt out of them every time I came home from the barn... I was given a wedding shower at the barn and decided that I would use the gift money for a new pair of boots and was THRILLED that I could order the same boots. They fit like a dream and are instantly as comfortable as the pair I was so reluctant to give up. Thank you!!! I am looking forward to another 8-10 years with my NEW favorite pair of boots!!!
Date published: 2014-01-31
Rated

2

out of

5
by
angela F
from
lovely boots
i purchased these boots from smart packs. I have a wide foot and they were tight initially. they broke in in about 3-4times of wearing themandthen fit beautifully. I wasreally disappointed whentheystarted breaking through on both feet on the inside insole. like cheap thin leather. Ive probably worn them 30 times maybe..... I've conditioned them probably half a dozen times. what a let down because i LOVE these boots but for me they did not hold up well. I'm wondering if their more expensive paddock boots have thicker leather? I love the styling and they are very comfortable just the pair i ordered were not long lasting.
Date published: 2014-01-31
Rated

5

out of

5
by
Anon
from
First Pair of Ariats!
These are my first pair of Ariat boots. I can already tell you, I've been converted. The brand has been recommended to me time and time again, it's only when my old boots started to wear off that I decided, why not go for Ariats? I chose the Heritage III Lace not only for the aesthetic but I was a bit concerned that the zipper version might have problems with dust/dirt/sand. I bought a size 7 although 6.5 is my foot size. I'm glad I did. The thick socks I wear fill out the rest of the boot - something to keep in mind if you live somewhere cold! They come up taller than my previous boots, ie. well above my ankle, which gives some nice support. They are exceptionally comfortable and the brogue detail is very stylish. Paired with the right chap they're truly a dream <3
Date published: 2014-02-21
Rated

5

out of

5
by
Susan Lumen
from
1st of the shelf boots to fit me, EVER!!
I have extremely hard to fit feet as they are wide and high arched and a whole size different. I was worried becauseI have tried many bootsandnever found anything thatcameeven close, till now. ThankyouAriatfor your help in finding these as well as making a superior boot. They were comfortable from the first day(I wore them all day!) and seem to be tough but it will take some time to find that out! I am going to order another pair, maybe 2 as I don't want to miss out on them in case they decided to stop making them!!! I only wish they came in brown in my size then I would order 10 more!!
Date published: 2014-01-31
Rated

5

out of

5
by
Ashley Mann
from
Extremely Satisfied
I bought these for recreational riding. I ordered my street shoe size and they fit perfectly. The first few times I wore them I was a little concernedabouthow stiff theywere; my heel would slip outof the footbedwhile riding. Then one day I kept them in the bathroom while showering, and afterward while the room was still steamy I twisted them and bent them and worked them thoroughly with my hands. Since then they have been so comfortable that I wear them for every day in addition to riding, and they move with my foot and bend with my ankle.
Date published: 2014-01-31
Rated

5

out of

5
by
Shelly P
from
Fantastic boot!
I love these paddock boots! I've had a brown pair for about a year and a half. It took that year and a half of me nottaking the best careof themforthemto start to crack, and I also wore a hole on the side of theseam that runs above the toe of the boot. I took it to a cobbler who patched it and these great pair of boots can put on even more miles! And since I got my boot patched I've cleaned them after every ride and the cracking stopped. I would recommend these boots to everyone, whether you get lace ups or a zipper, but just remember to keep them clean!
Date published: 2014-01-31
Rated

5

out of

5
by
DeepSouthEquestrian
from
Excellent, Comfortable Paddock Boot!
I bought these boots and a pair of Ariat Half Chaps to start hunt seat lessons just over a year ago. These boots are very sturdy and supportive. They were extremely comfortable to wear, and the quality of the boot is excellent. If you aren't ready to invest in tall boots, or just need a pair of paddock boots for casual use, then I would consider these boots.
Date published: 2015-03-04
Rated

5

out of

5
by
Sidney
from
Awesome!
I was going to get the zip version of this boot, but i guess the arch of my foot is so high that they would even zipup on one foot :( SoI tried onthelace andI am gladI did! THe lace offersmoreflexibility throughout the ankle while still providing support. They feel like they have already been broken in and I have only ridden in them once! Awesome grip in and out of the saddle. I plan on using them at the barn but also wearing them with some nice leather half chaps for local shows :) love love love
Date published: 2014-01-31